smh :: love shack
THE HOME 
An old shed turned into a one-bedroom caretaker's cottage in a garden nursery in Ingleside, on Sydney's northern beaches.
WHO LIVES HERE 
Kawaiian Lion homewares designer Dee Tang and Desmond Sweeney, a scenic artist for Opera Australia. The pair have nicknamed their home "The Cowabungalow", and their laid-back, creative approach to living has transformed the shed into a cosy and fun place. "Our limited funds have forced us to learn to re-use, recycle and rejuvenate anything that comes into our home," says Dee.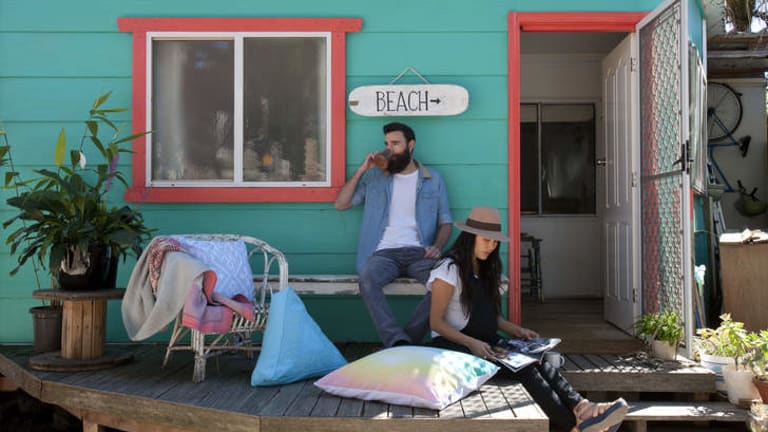 WHAT I DID 
"Before we started, we came up with a story to base the look and feel on," says Dee. "We imagined an English botanist sailed to Hawaii and fell in love with an island girl. Everything has to fit into this theme. On a practical level, we had to strip the old carpet, and sand and whitewash the shipping pallets we used for the floors. To detract from the industrial metal building we painted the outside in happy colours found on Caribbean and Central American buildings."
MY FAVOURITE ROOM 
"I love to sit at my desk, originally an old stable door. I made it when I was a contestant on TV show Top Design a couple of years ago and was able to keep it."
THE 'HOOD 
"We're five minutes from the beach. There's a strong sense of community – Des grew up here, his parents are just down the road."
https://www.smh.com.au/lifestyle/love-shack-20131030-2wfjm.html
By
 

Amanda Talbot